In this interview, Nina Tedesco, photographer and film professor at the Fluminense Federal University, talks with director of photography Kátia Coelho, ABC, DAFB. Kátia Coelho, aka Katinha, began her career in camera crews in the 1980s, and was the first woman to direct the photography of a fictional feature film in Brazilian cinema. Much has been said and written about his first decades of career, marked by several awards in photography. But recently she has expanded her area of expertise to what she considers a creative production – a concept that she explains to us in this interview. Therefore, the focus of the conversation was today's Kátia Coelho: director of photography, producer, screenwriter and with many plans.
Nina Tedesco:
I know that many interviews focus on the first few decades of your career, which is no accident. In addition to being the first woman to direct a fiction feature film in Brazil, she was also the director of "Tônica Dominante", an extraordinary and award-winning work. But I wanted to situate the beginning of our conversation more recently. I wanted to understand how you stopped being completely focused on the direction of photography, that is, on the images, to also become a producer and screenwriter, entering the world of creating words.
Kátia Coelho:
I really dedicated myself for a long time, exclusively, to producing images. However, as I have always had a career, although absolutely focused on images, I was also taken to different places, such as teaching at the School of Communication and Arts of the University of São Paulo (ECA-USP), doing a master's degree… And it's curious because precisely in my master's degree, when I had to write, my dissertation was called "Kyrie ou O início do Caos e Tônica Dominante: cinema sem palavras" (2005). In it, I dealt with these two films, which were very important at the beginning of my career as a cinematographer: " Kyrie ou O início do Caos" (2008) is a short film directed by Débora Waldman and the feature film "Tônica Dominante" was directed by Lina Chamie. Both of them used the image as their main narrative and I always say that it was a privilege for me to be able to build images that were the basis of the emotion of these filmmakers' scripts. And we thought about it a lot together. The color, the density of the image, the costumes, the locations, everything was very studied. While still at the academy, when I taught at ECA, I supervised student projects and conducted the orientations as in real life. I did the script reading part, talked about decoupage, axis, lenses, formats, about the climate of photography, about art, and it was very interesting. There were a lot of cool short films at that time, which I'm very proud to have supervised, and that was also transforming my career, because I never dissociated myself from cinema as a whole. And cinema itself is associative. You work with a lot of people to get the result. After a while, I also wanted to think about the word, what I would like to say with films. I think the time I was a partner at Girafa Filmes was also important, which produced "Tônica Dominante" and "A Via Láctea", which are Lina Chamie's films that I photographed. At Girafa, I had a lot of contact with production, I always participated in festivals. This was also a time when I started to be invited a lot to be a selection jury at festivals: feature-film, short-film, documentaries, and even script jury, in public notices aimed at production in the Secretariats of Culture. So there were years when the word was there, surrounding me.
NT:
Yeah, she was stalking you from several places… There was also the meeting with Naji Sidki, which was decisive for this turnaround, isn't it?
KC:
For sure! Around 2009, I met this production partner until today, Naji Sidki, from Veríssimo Produções. He wanted to finish a documentary made without any money, which was stuck on the finalization issue. It was a film about director Afonso Brazza, from Brasilia, whom I liked a lot, as I got to know him during his lifetime at the Brasilia Festival, which has always been very important to me, as it was where "Tônica Dominante" premiered. Talking to Naji, we decided to finish this project. Then we came in with support like Cinemateca in reviewing the material, which had been captured in Super-16, co-producers like Cinecolor, who did all the sound, DOTCine, who did the color correction and all the deliveries… Anyway, they were really amazing partners, and the film was ready in 2015. In that period, we started writing a lot of scripts together.
NT:
How was the reception of this film in which you were a producer for the first time?
KC:
Wow, it was cool! We got off to a good start. In 2015, "Afonso é uma Brazza", by Naji Sidki & James Gama, this documentary, premiered at the Brasília Festival and won important awards for best short film by the popular jury, Candango for best editing, ABCV Award at Curta Brasília… And he represented Brazil in Cuba, in Toronto and went to the São Paulo International Festival and several short film festivals. We traveled a lot with the film. It was a cool this experience to be there, representing a project that I helped to be born.
NT:
With this debut on the right foot, you could only move to Brasília.
KC:
Well, it seems that everything was working in favor because, in 2015, I received an offer to work at TV Câmara, in documentaries and in the lighting of the programs, with a one-year contract. This was in line with the desire we had to carry out the projects. Then we continued to write. We have several scripts in the first treatment, but we also have one movie released and one in the pipeline.
NT:
Talk about the first released then.
KC:
"Dulcina" is a film directed by Glória Teixeira, released in 2019. Naji and I produced and Naji photographed. We thought of a team, a whole way of filming to collaborate with the director, since it was her debut film in the cinema. It's a feature film about Dulcina de Moraes, and this process was quite interesting. It was great to have made "Dulcina" before the executive production of "Terra de Ciganos", because "Terra de Ciganos" is a big film, which made us travel around Brazil, and "Dulcina" is regional, from the heart of Brasilia. In fact, it was also highly awarded at the Festival's Brasília Show, as Best Feature Film, Best Actress, Popular Jury and Art Direction. I usually say that "Dulcina" and "Afonso É uma Brazza" are films that portrayed very important characters in the city.
NT:
"Terra de Ciganos" is a long-term project, with complex production. Shall we talk about him?
KC:
Naji has been talking about the feature film "Terra de Ciganos" since 2010. He put a gold tooth in the project for luck! We started to make contacts with Roma groups to guide the direction of the project, the writing of the script. In 2018, we won ANCINE's PRODECINE 1, which is a really cool award for documentaries because it allows you to research the characters and find out who they are. Naji is director of the film, as well as producer and cinematographer. This public notice gave us the possibility to do the project as we would like: a trip through Brazil. In the Northeast, in the Midwest, in the Southeast, São Paulo, Minas too, in search of the characters that Naji would like the film to have, which would be Brazilian gypsy musicians. Our imagination about gypsy music is based in Eastern Europe, right? It is very cool to see that in Brazil there are also gypsy composers, whose art is absolutely natural, who sing and compose for the pleasure of singing, because they are people who are not in contact with the public. Me and Naji are artistic producers, you know? We think the project, write the project, go after the project money and carry out the project. The film is now being finalized and we hope to release it at festivals in 2022. There has been a very big stop at ANCINE lately and, as the funding is from ANCINE, the project suffered a little with this stop, but now it seems that it's all coming back. We are confident.
NT:
How is your experience as a photographer important for the performance of the role of creative producer?
KC:
The fact that both Naji and I are cinematographers means that we have a very strong command of the language of cinema, of decoupage, of the finalization process. Both he and I studied audiovisual, so the audiovisual is present from an early age, since we chose to go to college. It's very interesting to be a director of photography and to think about writing. Because it's writing, but I don't want to write for other people. We want to write our own projects, that's why I call it an artistic production, because it's more geared, really, to a more authorial, more personal desire, to what we want to say after so long on the road in audiovisual. This is the type of project that motivates me today, in the production of images, texts. In addition to photographing some projects, of course. "A Via Láctea" was a film captured with Mini-DV, with a very small team, my students as assistants, with a DVX100, from Panasonic, the first fiction film in Brazil captured in Mini-DV and, later, a transfer was made, the transition from video to film. That I think was the experience that made me start thinking about working in cinema differently. It was still a time when video was not well regarded, this transition to video was still complex, but I had watched Lars Von Trier's "Dancer in the Dark" (2000) and "Buena Vista Social Club" (1999) , by Win Wenders. The same photographer even made both films, Robin Muller. I loved that photography, but that told the film and left nothing to be desired as a feeling conveyed by the film. So what I think helped to start a transition in my desire to have other, other goals, not only fiction film photography, which has always been my biggest goal, was precisely to see that it was possible, in a simpler way, for you to also tell stories. This could be very accessible in the future, as it is now, and it took a while, but currently we have a much more democratic cinema in Brazil, although we still must move forward. What really motivated me to go to other fields was the possibility of things getting smaller and having more contact with everything we shoot. Which is not to say that, in a larger production, you don't have contact, because when you put your eye on that viewfinder, a whole world appears to you, a framed world. You can't think of anything else but that image you framed.
NT:
I liked that a lot, it's true what happens when we look through the viewfinder and see the world framed… Returning to "Terra de Ciganos", when will we be able to see it? And what other works of yours will we be able to watch soon?
KC:
I also directed the cinematography of the film "Diário de Viagem", director Paula Kim's debut feature, which will be released this year, produced by Dezenove, with Sara Silveira and Maria Ionescu as producers. I participated in the production from the reading of the script. It is a project that I consider very important, because it talks about anorexia in adolescence. It will hit the screens along with "Terra de Ciganos". I believe that both films will premiere at festivals in 2022. They are films that have a mission, I think that's important. Gypsies deserve to be known, we need to create greater empathy with these people, who really go through difficulties and are very talented. Gypsy art is already quite admired, but it's time to admire the Brazilian gypsy people, this is the main objective of the film.
"Diário de Viagem" (2021), by Paula Kim, produced by Dezenove Som e Imagens, with cinematography by Kátia
NT:
And about future projects, what can you tell us?
KC:
Now that new prospects for public notices are opening up and the completion of "Terra de Ciganos", we are starting to think about other projects. My main new project is "Minha Vida de Cachorro", which is a well-developed series script. Zeca Baleiro will be in the film as the voice of Bob, a dog who is the main character. "Minha Vida de Cachorro" gives me the opportunity to delve deeper as an artistic director, to organize a thought of the decoupage and the cameras for the project. Why? Because I know how difficult it is to film with animals in cinema. This mastery of the image makes it possible for me to plan simpler ways of telling stories in decoupage, without losing the truth of the story. It's a comedy, a philosophical comedy, a series about animals that talk to humans and interfere in their lives. In cinematography, my next project is the fiction feature film "Brutus", directed by Marcelo Toledo, a very human and delicate script about a Haitian boxer. I believe that, in 2022, we will be able to continue "Minha Vida de Cachorro", in addition to another feature film project called "O Inquilino", with Naji Sidki directing and me executive producing. Anyway, we have several projects written and in which we are involved with the direction of photography as well.
NT:
And can we expect more turning points in your career?
KC:
I have a great interest in being in the world of Visual Arts. I studied cinema at USP in the only year in the history of ECA that placed cinema as an entrance exam in arts, the only class that united visual arts, cinema, music and theater. For four years, my companions were people connected to these areas, I learned a lot. This was very important in my education because I started like that, at 17, very raw, because I only joined to receive from the university everything it proposed for me in life and joy. So I'm also quite attracted to this universe of Visual Arts, video art, in short, I have a project on the way in this direction as well. Another issue that has interested me a lot, within the universe of cinematography, is teaching children, teaching cinema, audiovisual for children and adolescents. It's not an area that I'm already in, but it's an area that interests me a lot, this formation of a younger audience.
NT:
Looks like I'm going to need to keep interviewing you for the next few years. Is there anything else you want to talk about that I haven't asked you about? Thank you in advance, the interview was great, thanks for this partnership!
KC:
Nina, I'm still very happy to have your partnership, with your eyes shining through cinema ever since. I just must thank you for your words and pictures, always! Thanks a lot, ABC and Iris Magazine!
STRIKING EXPERIENCES WITH FEATURE FILMS
Testimonials provided by Kátia Coelho for the Iris podcast 
TÔNICA DOMINANTE
Directed by Lina Chamie, "Tônica Dominante" was released in 2001, but we filmed between 1997 and 1999. At the Brasília Festival of Brazilian Cinema, reports were made about a woman being the director of photography. This caught the attention of critics. It was a film that really marked my position in the market. I won important awards, such as second place at the Kodak Vision Awards in Los Angeles and the award from the São Paulo Association of Art Critics (APCA). The dialogue with Lina is very fertile. She is a director who has a lot to share about the project. She works with an experimental universe in which photography is an elaborate calligraphy along with music. Cinematography translates the feelings of the character. We worked on a very different script. Since the script, this feature was very thought out from the colors. Blue, red and gold represented emotions, as if they were three stories. Despite these experiments, it is a film with a very classic language in terms of decoupages, looks and concepts. It is an elegant, reflective, intimate and introspective film. It's about the inside of the character, about poetry. Camera movement was always done with cranes, tracking shots and the occasional steadicam.
A VIA LÁCTEA
"A Via Láctea" was really a game-changer in the concept of what would happen to cinema going forward. About 95% of the film was shot in digital. Only the character's memories with his mother were filmed on film. Everything was Mini DV, with a DVX-100 running at 24 frames per second, no lighting. We made this film to rip the image. Unlike "Tônica Dominante", we wanted to show the exterior of the character played by Marco Ricca, his external side. What happens to his head is very emotionally violent. It's his relationship with São Paulo, a very difficult city. We wanted it to have noise and a camera in hand. We shot only two small parts in Super 16mm and 35mm. The assistants were my university students, Julio Taubkin and Chica San Martin. The team was small but very talented. With "A Via Láctea", I understood that cinema was getting closer to people and democratizing itself. It was a new kind of cinema that started with the Dogma movement. It was from this proposal that I accepted to do "A Via Láctea". It is an anguished camera in relation to the image. It came as a surprise to everyone when the film entered the Cannes Film Festival Critics Week and went through 50 international festivals or more. As I was also a producer, I traveled a lot to these places. We did the process from start to finish with a lot of camera tests, especially at night. The locations were very chosen because of the photography. We use very little light, one or another reflector. We tested how the camera would behave in each location. Digital was still in its infancy. Lina didn't want to stop to change chassis, she wanted to roam around the city freely with Marco Ricca. Alice Braga's scene with the animals was one of the only ones filmed on film. The film can be found in pirated copies, but the 35 mm projection will always be the best because it has the sum of the grain and the noise of the video, caused by the transfer of the passage to the film. It's nothing classic, but I did win an award for best photography at a Spanish festival.
CORPOS CELESTES
Before "Corpos Celestes", I made two short films with Marcos Jorge. The first was "O Encontro", a very colorful and sarcastic comedy. Then we did "Infinitamente Maio", which I filmed almost entirely in digital even before the 24-frame format existed, but with an interchangeable lens that allowed us to have an assistant to control the focus, very much inspired by the look of "Dancer in the Dark" by Lars Von Trier. Marcos directed "Corpos Celestes" along with Fernando Severi. It's a film that has a very classic approach, in 35mm film. We wanted a slightly faded image, so I used a brown filter to homogenize the colors a bit. I lowered everything a bit already in the tests. The finalization was done at TeleImage with Marcos Oliveira.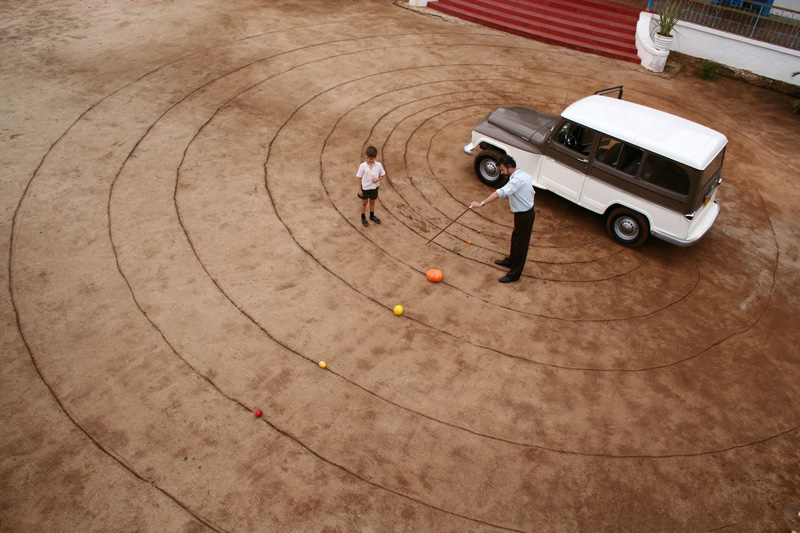 KÁTIA COELHO / FILMOGRAPHY / DIRECTOR OF PHOTOGRAPHY
Kátia Coelho, ABC, DAFB, has received more than 30 national and international awards. With "Tônica Dominante" (2000), by Lina Chamie, she won the Kodak Vision Award Woman in Film. With "A Via Láctea", also directed by Lina, he represented Brazil at the Cannes Film Festival. In the 1990s, he was the director of photography for classic short films in Brazilian cinema, such as "That's a Lero Lero" (1994), by Amin Stepple and Lírio Ferreira, and " Kyrie ou o Início do Caoss" (1998), by Deborah Waldman. With his short films, he won the Candango and Kikito trophies for Best Photography in Brasília and Gramado, among other festivals. As a camera assistant, he worked alongside renowned directors and photographers, such as Affonso Beato, Pedro Farkas and Lauro Escorel, in films such as "Além da Paixão" (1985), by Bruno Barreto, "Caramujo-Flor" (1988), by Joel Pizzini, and "At Play in the Fields of the Lord" (1991), by Hector Babenco.
Between short and feature films, he signed the cinematography of the films:
2017 – Shala
2016 – Codinome Clemente
2013 – Batchan
2013 – O Senhor do Labirinto
2012 – Essa Maldita Vontade de Ser Pássaro (feature)
2011 – Corpos Celestes (feature)
2010 – Doce de Coco
2009 – Rosa e Benjamin
2008 – Wenceslau e a Árvore do Gramofone
2007 – Nó de Rosas
2007 – A Via Láctea (feature)
2004 – Como Fazer Um Filme de Amor (feature)
2004 – Fátima
2003 – Infinitamente Maio
2002 – Morte
2002 – O Encontro
2001 – O Casamento de Louise (feature)
2000 – Tônica Dominante (feature)
1998 – Kyrie ou o Início do Caos
1997 – Átimo
1996 – A Alma do Negócio
1995 – Esperando Roque
1995 – Eu Sei que Você Sabe
1995 – Nelson
1994 – That's a Lero-Lero
1993 – Opressão
1992 – O Crime da Imagem
1991 – Rio de Janeiro, Minas
1990 – Real Desejo (feature)
1988 – História Familiar
1988 – Chuá
1986 – Poema: Cidade