"Nebula Baby" was different from anything I've done so far. I joined the project a week before we started shooting, the film had another director who had to leave due to incompatibility of schedules. I already had history with Gio from another project that was interrupted due to the the pandemic. This time, he called me by surprise and I fell head over heels. I had some meetings with the creative direction team, formed by Gio himself, Ava Rocha, Gāthā and Og Cruz. They brought the script and all the ideas, everything they had ever imagined for the film, and we started to understand what the possibilities were. We worked from the perspective that we imagined a film, captured one and edited another, so we had the vision that we would modify whatever was necessary for the idea of the script to be brought to the world in the best possible way.
My role as director and photographer was to give structure and format to all that. The script was already cut out in relation to the acts and scenes, but it didn't detail the plans and how everything would be shot or how one sequence would fit in with the other. My job was to be that glue and make the material more cohesive, with more sense as a complete work along with the score and the wonderful editing done by Korontai.
Connection with the Locations
The choices of locations were a wonderful surprise for me for most of those places were chosen by Gio himself and went through his life story. We filmed many scenes in Jequié and Ipiaú, places that have connections with his childhood and adolescence. Among the characters, there are many relatives and friends. The film is about his trajectory and about the people he looked up to as an artist.
We arrived in each city to observe what would be the best light times to film on each location. The next day, we were already driving. It was cool to know this part of Bahia and to be able to be there capturing and bringing my eyes. Despite being a very personal story of Gio, it has a lot to do with my story. The people we film have a lot to do with the people in my life. It was something natural and it flowed very smoothly.
Our narrative is basically about the character's search for an answer, a place or a state of mind. Practically 70% of the film is in Black & White to focus more on expressions, textures and imagery. At the high point, a contrast arises, as he finally finds that state of peace and tranquility, represented by light energy. From there, color and art direction play a big role in this sense of being able to separate moments and bring a differentiation between the place where you were and the place you want/where you arrived. We really wanted to differentiate these moments and create a space between them, summarizing the entire journey there. Before, the character was one person, then he is another, who sees things differently and sees beauty differently.
I worked with LUTs (Look Up Tables) that I created myself in DaVinci Resolve software. In the script, we already knew which scenes would be B&W and color. The final idea of capturing was already defined since pre-production and was applied in monitoring, interfering with the way of exposing. The Black & White LUTs had more contrast and I would bring that to the camera when capturing, to visualize as close as possible to what the final material would be. In editing, Korontai had some insights and brought to color some scenes that were filmed to be in B&W. To allow this possibility of working the colors in the best way, I ran everything in RAW to have a wider range. This more complete file brings more possibilities, helping to maintain a larger unit.
Light Rays
We found a location that I consider to be golden, an old abandoned cistern, in Jequié. There were holes in the ceiling that end up bringing in great beams of light. Our team was very small, without a person in charge of effects, for example. We worked the smoke with small fireworks and flares that help to bring this atmosphere and format that we were looking for.
The beams that come from outside are from the sun, it's all natural. We understood what the best time of day was and what were the best angles of solar incidence. We also use a reflector and Styrofoam to redirect the light in the best way. Even with little structure, we managed to use that environment in a very interesting way within our aesthetics.
The biggest challenge in this location was managing to maintain a unit of contrast. As a photographer, I like to work with the shadows and negate the scenes, with a strong contrast. Since we use sunlight, the punch is bigger. The work is to be able to keep everything balanced between the high and the short level, but without exaggerating too much or losing information when something is too marked.
Backlight
As part of my training, this journey that I have been taking in cinematography, I found the backlighting to be a very interesting format, which I felt was not very well explored. Backlighting is a classic effect, used since the beginning of cinema, but I feel that it is used in a very specific way, for specific moments, in a very strong and marked way.
In many of my projects, I work with the backlight as something belonging to my universes. I use it a lot, especially when I have few light sources and this was present in my training, as I learned to make light with few sources. I have always sought the best printing and delivery within the possibilities we have, without being overly dependent on equipment requirements. We can search on the set itself, for solutions that really match the story and plot of the project.
I feel that the backlight performs very well either alone or with some added feature. In "Nebula Baby", I use this feature with both the positioning of natural and artificial light, to mark the characters and give an overall volume to the scenes.
Lenses and Camera
When choosing lenses and camera, we considered the budget issue and what we needed for the project. We opted for a Black Magic Pocket 6K and two Sigma Art zoom lenses, an 18-35mm 1.8 and a 50-100mm 1.8. We chose this game because I needed a certain dynamic because of the reduced team.
The zoom makes it easy to capture documentary scenes, which are many, in an agile way. We arrived at a very interesting texture. Both this camera and these lenses have very digital and modern characteristics, but the ways of filtering, rotating and working on the post allow us to reach a middle ground between electronic and a more analog-inspired treatment. I believe we arrived at a texture that was interesting and unique.
Camera Car
and Camera Horse
In the truck bed scenes, we worked with what I usually call a "low budget camera car". Basically, we had a support van with the seats removed from the part where the side door opens. The camera was on a tripod, ratcheted into the van itself, well locked on both the side seat and the handle, very fixed. To maintain maximum security in this operation, I was also tinkered in the remaining bank. We walked through asphalt streets, which had a straighter and more uniform floor, to bring the stability we needed.
In the scenes with horses, I chose to operate the camera also on horseback. It was the first time I rode in my life. I did a few laps earlier to feel confident. We had two characters assembled and a herd in the middle. The safest, most dynamic, and practical way to capture different angles was to participate with them, mounted alone on my own horse. It was a very interesting experience, doing both at the same time. It became more organic and matched their movements better.
The animal was tame and very calm. This allowed me to switch, very quickly, between agile movements and still shots with a slight movement of the camera in the hand. I really like trying to see cinematography with other perspectives, thinking and rethinking ways of making cinema. When the opportunity to film on horseback came up, I thought it would be a good dynamic for that scene.
Minimalist Zoom
When I received the script, I realized that the film would really be very photographic, in the sense of having well-composed shots that would take up a certain amount of screen time. I decided that I would use a tripod a lot, because of the still or almost motionless shots, and camera in hand, something I mastered and exercised a lot during my journey in cinematography. I based the entire film on these two structures, only weighing more for the tripod. Many shots are like photographs in that they are well-chosen compositions.
Minimalist zoom effects invite us to subtly immerse ourselves in images. It is something widely used in cinema, especially in the 1970s. These are movements that bring sensations and feelings even in scenes without much mise en scène movement. Many of them were digital, made in montage. I feel that they provide the feeling of being closer and closer to those subjects and characters.
Mirroring
To shoot the mirror-headed character, I had to be especially careful with the reflections. As it was a very moving performance, the pyramid moved at various angles. I asked the entire team to position themselves behind me, behind the camera, to reduce the possibility of us showing up. I also tried to use many planes from the bottom up, so that the sky and the stone wall were the most reflected elements in an organic and diegetic way.
The metallic fabric was chosen by Gāthā, the art director. My job was to choose a bright light and a time of day that brought contrast to bring out the brightness of the material without bursting and without being unsightly.
Light Effects
In the specific scene of the rotating light, the idea was to leave the four characters distributed in layers. One was in the foreground, one in the second, one in the third. Lighting danced between them. The idea was to shoot at night with just one light source. As we didn't have a generator, we used an Aputure 300d with V-Mount batteries. While we were positioning the actresses, I had the idea of asking the assistant TT Porto to rotate the light on its own axis. When he made the movement, there was that effect that is in the movie, with the alternation of lighting between the characters.
It was an aesthetic that emerged from a lack that we used as power. Regardless of the amount of money, I try to bring that to the projects, break my head and think of new ways to capture the scenes. Having this vision was essential for my work to evolve.
We did the backlit sparks scene in two ways. In the first one, which appears in the spotlight for the longest time, we use those mini volcanoes of São João, harmless fireworks used by children. We looked for the best time for Magic Hour, when there was no direct sunlight, with the sky well-lit and colorful. We positioned the volcano behind the character and made movements that brought more organicity to the scene.
In another moment, which appears quickly as a flash, we use steel wool tied to a piece of wood, set fire and spin with great intensity. That way it generates sparks, small fragments that cause that effect.
In the scene of the silhouette that moves on the stone, we start the daily one very early in the morning. First, we made the softer light images. Then, when the sun came up, the light became harsher and we saw this shadow in movement, projected on that rocky wall full of well-defined vertical cuts. We thought it would be worth taking the opportunity to help us tell the story that way too.
Digital Interventions
The scenes with CGI intervention were thought out from before we went to the set. We shot these shots on the tripod. To make it easier, we also captured some plates to use in the composition. It was necessary to pay a lot of attention to favor the post-production work. The issue of light refraction was worked on beforehand, using a portable light source hanging from a nylon thread that simulated the movement of the light sphere, so that the lighting brought by the powder made sense and everything was more believable. and realistic as possible.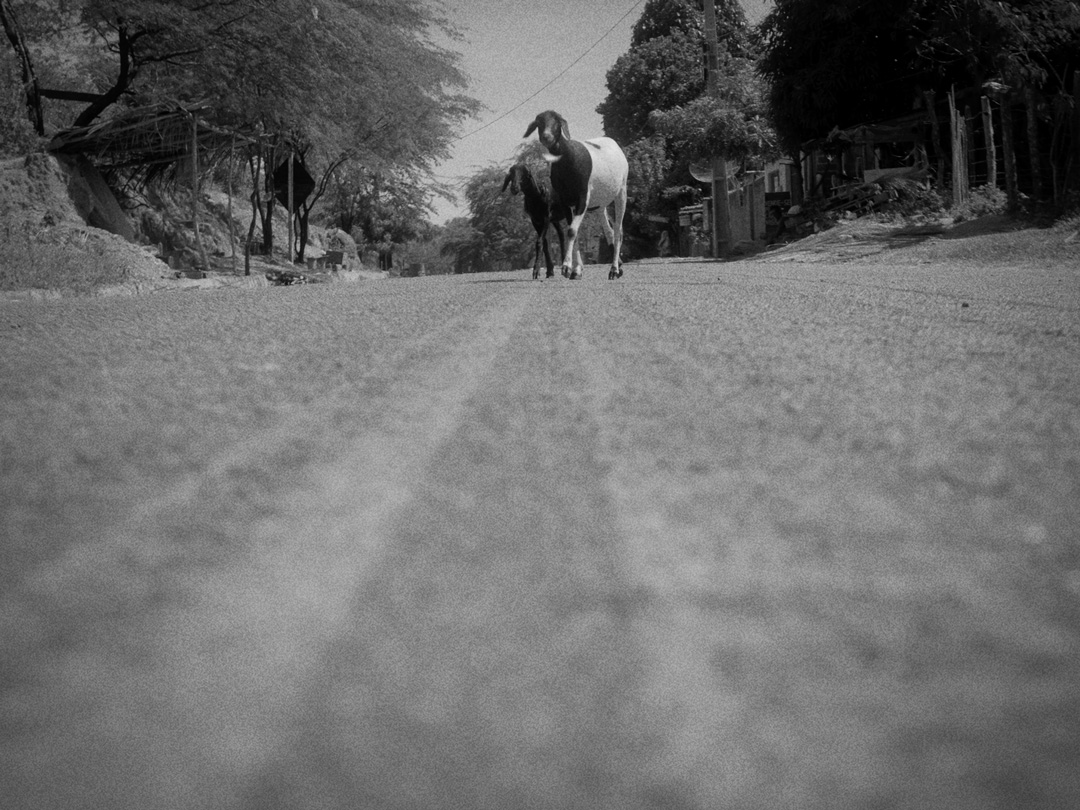 Final Credits
The fraternization scenes were very interesting to produce. We recorded in a community in Salvador, in a bar, where we worked a lot with diegetic light, having points of light that are part of the scene. Once again, we used backlighting to bring out volume. As it was a small location, we needed to work well, so the light didn't spread out too much giving a single layered feel, but without making the environment too theatrical and forced. The challenge was to find the middle ground using diegetic lights and some LEDs.
Making the movie available in 2K on Youtube is a choice I've been making for a few years now. I noticed that the Youtube encoder doesn't work well with 1080p. As I do the color correction of many of my films, it has happened a few times that we notice differences in contrast and sharpness, with loss of information on this specific platform. At 2K resolution, the file playback is more preserved, but without the exaggeration in sharpness of 4K or 6K. It is enough to keep the information of the casualties and to value everything that we need.
As a photographer, "Nebulosa Baby" was a great exercise of everything I had been practicing in recent years in cinematography, seeking a unity between fictional and documentary scenes and bringing more and more a signature to my aesthetics. As a director, it was an experience of understanding new formats and delving into the complexities of working on a script to think of believable and creative solutions.
MINI BIO
Soteropolitano, Edvaldo Raw is a director, photographer, colorist and screenwriter. He is currently part of the cast of directors of the international agency Iconoclast. He directed and photographed music videos for artists such as Larissa Luz, Afrocidade, Gio, Rincon Sapiência, Luedji Luna, ÀTTØØXXÁ, Don L, Lexa, Filipe Ret, Silva, Celo Dut, Nara Couto, MC Soffia, Diamante, Virus, Gabz, Nêssa and Cronista do Morro (awarded at the Music Video Festival), among others. He directed and photographed the official promotional video for the Mano a Mano podcast, presented by singer Mano Brown. He was the director of photography for the official broadcast of the Afropunk Bahia 2021 festival. In advertising, he worked on commercials for brands such as Johnnie Walker, Spotify, Google, Apple Music and Nubank. At the age of 20, he was director of photography for the short film "Náufraga", by Juh Almeida, awarded at the Panorama Coisa de Cinema festival in 2018.