By Heloisa Passos, ABC, DAFB
According to Jason Kohn, director of "Nothing Lasts Forever", we do don't make documentary. We make "Non-Fiction". This is a dystopian science fiction. Our word is not journalistic, but the events and stories are real.
We used anamorphic lenses for most of the film. It is a deconstruction of reality. We do not adopt crude language. All the characters are real, but the diamond market is a great symbolic invention that passes through notions of tradition, family and property. This frame format brings a fictionalization within this world. It's content full of irony, fantasy and science fiction elements yet brutal, because we're talking about capitalism in social and economic disparity scenario.
I never use anamorphic format in documentaries. It was the director's wish, which I embraced as a gift to myself as a photographer. There was no money to do everything in anamorphic at first. We were able to continue filming with anamorphic lenses with Showtime's arrival at the later stages.
There was no script or storyboard. Speech writing only happened in the editing process. What existed before filming was image research done by Jason himself, which allowed us to imagine how we could make the frames. It has a very strict visual construction method. The archival material used on the scenes was not planned and was only included at the time of editing.
All of this has to do with my broad crafted background, which involves many years of fiction, combined with Jason's upbringing, who was an assistant to Errol Morris. When "Manda Bala" was being made, I watched "The Thin Blue Line" understood what he wanted, a desire linked to the control of the image, so it was also in "Nothing Lasts Forever". He gave me the book by Darius Khondji as a gift, which made me think about what representation is and what fictionalization is. One of the sequences that came out of these concepts is the meeting between gemologist Dusan Simic and entrepreneur Martin Rapaport in India. I used an anamorphic Angénieux zoom lens and did not turn off the camera after the lecture. I managed to make a giant sequence shot until I got to the conversation between the two because of that. It was a fluke. We photographers need to be in search of form, just as we need to be open to other things that are happening. Rapaport, who is a major New York diamond dealer, was not in the film yet, but he became one of the main characters from that unexpected scene.
CAMERAS:
Sony F55
Sony Alpha 7s
Sony Alpha 7s II
Alexa Mini
LENSES:
Cooke anamórfica /i SF (25mm e 32mm)
Angenieux Optimo anamórfica A2s (56-152mm)
Hawk anamórfica V-Plus
Cooke s4 (18mm/25mm/35mm/50mm/100mm)
FILTERS to turn Prime lenses into Macro:
Close-up 1/2/3
Split-Field diopter 1/2/3
It took 10 years of filming to finish the material. The first interview was done in 2010, in Boston an embryo of the project which didn't make it into the film. We interviewed a Nobel Prize-winning scientist who studies the origin of life. Previously, the title would have been "Origin Stories". There were two takes on it, one on producing life in the laboratory and the other on the production of synthetic diamond. At this stage, we shot sequences separately as we got small grants and sponsorships from American funds like Cinereach and Catapult. Still in Chicago, we also shot another scene that didn't make it to the final version about two brothers running a company that transform carbon from human ashes into diamonds, commissioned by the relatives of the deceased.
After a few years, Jason decided to focus only on diamonds. In 2013, we interviewed gemologist Dusan Simic in New York and began shooting laboratories in New Jersey that work on pressurizing carbon. We continued to receive support from a few more small funds and in 2014 we went to Surat, a city that is the diamond cutting center in India. In most of these places in the world Jason and I travelled together. The film crews were always very small, with assistant and sometimes a local producer.
The Showtime channel joined as a producer in 2017 and we started working with a consistent budget, we call it real money. We had already shot several sequences, which we present separately.
Also in 2017, Jason shot some sequences alone in China, proving to be a great photographer. He is a director who thinks about images all the time. We knew each other very well since we made "Manda Bala" together, which won the awards for best film and best cinematography at the Sundance Film Festival in 2007. Over the years, we have made some short films and commercials together, but only now we managed to complete our second feature film developed from this partnership.
We came back with Dusan Simic to India in 2018, after Showtime joined. It was my second visit to Surat and Jason had also been there two or three other times. This gave us more access. This film took a long time due to access issues. These are very veiled places, as Indian journalist Melvyn Thomas says, interviewed by us. You can't easily get into that kind of factory.
Tech scout visits were done by Jason on almost every interview before filming. An image production for each character gets elaborated. It's a creative process. We put everyone at the center and funds are very important, bring objects to the scenes, some more minimalist and some less. We were responsible for the art direction, he as director and me as photographer. Similar to setting, the apparel is very important for photography. Each objects color and outfit will establish the texture of the film.
Most of the interviews were shot with two cameras to allow us to switch frames in the montage. One camera was placed almost on top of the other. The concern was that the interviewee's gaze did not leave the line of sight of those watching the film, the spectator. Not only with the composition we also worried with the height of the gaze, with the axis. It is an obsessive search for symmetry and composition.
The interview with Aja Raden, a jewelry designer, took place in an almost empty room room. Each object placed in this frame was well-thought and produced. Eduardo Enrique Mayén participated as an additional photographer and shot this scene.
The testimony of Stephen Lussier, who represents the De Beers Group, was shot in Botswana, Africa. We took advantage of the celebration of the 50 years of Debswana (Debswana Diamond Company Limited) and went to Gabarone. The only character not filmed with this rigidity was Dusan, as he was the conductor of the film who rides a train, drives an uber, cuts his hair, and is shown in action while working in factories. It is also a way of humanizing him, as we bonded with him.
To shoot the diamonds up close, we got a Zeiss microscope, provided by marine biologist David Gruber of the City University of New York, with a Nikon adapter. We were able to fit the Sony A7S II camera and use an external Apple ProRes 422 recorder on the Shogun. The zoom movement is done at the focus of the microscope itself. We only had one day with this equipment to shoot the diamonds. The scientist who lent us also gave us two micro-reflectors, two flashlights, which he uses to photograph underwater organisms. We used these lights in many ways and from various angles. We freaked out about it, spent a day playing around.
In addition to this microscope, we also always had a set of filters: close up 1, 2 and 3, which was purchased by the production company. As we didn't have an anamorphic macro, I used these close ups to simulate the macro in the lenses we had. We also used a filter called Split Field, a crystal with a close up half moon and the other hollow half-moon. This made it possible to focus the diamond in detail and at the same time show, in the same composition, an action that was taking place close by, like a man approaching the factory.
I looked for a light that would provide punctuation on the material we made of the diamonds, like a haze in the glow of the stone itself. If there wasn't a spotlight available, I would look for a spot on the location where there would be some light that would bring in side or back lighting.
It was not possible to travel with a lighting kit because, in countries like India and China, it is very complicated to enter with specific equipment, so we decided to take the lenses, cameras and small tripods distributed in our suitcases. I took a 1×1 Light Pannel and small loose accessories like flags, a diffuser, a silk, a black fabric, a white fabric and a silver fabric, all folded in the middle of my clothes. The solution was to look for local rental companies.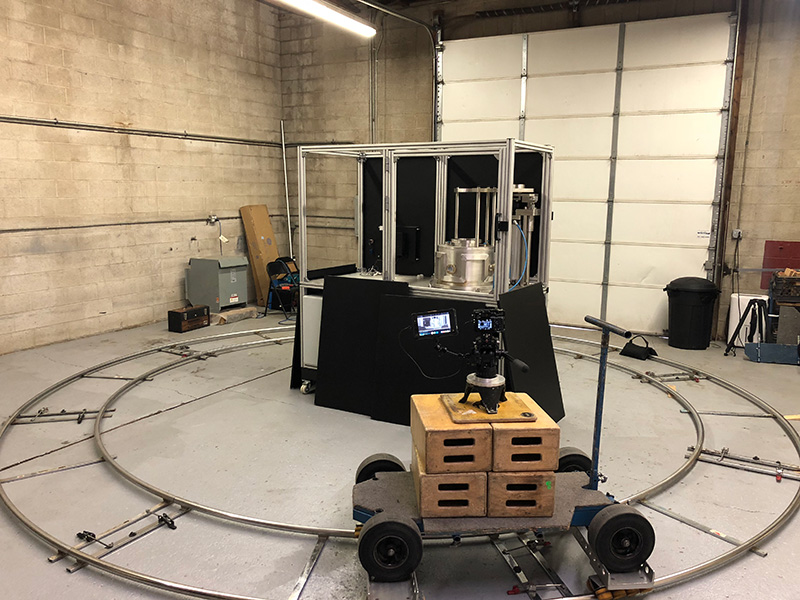 In pre-production, we tried to identify where there were rental companies nearby and paid the rent for the equipment weeks in advance to avoid delays and unforeseen events. In China, everything came boxed from Beijing, which was very far away. In Botswana I needed an hmi and we found an Eastern European photographer who rented equipment for us. At the Salt Lake City factory, I mounted a Sky Pannel in a zenith position on top of the camera that we used in circular motion. On this occasion, we got it from a local rental company and hired an electrician and a machinist from the city.
At one of the rental companies in Mumbai, India, each rented equipment needed a specific professional. This was since there was no insurance for the equipment. I couldn't take many things because the team would be too numerous.
I love Dusan's sequence as an Uber driver in New York. It gets dark and it starts to rain. The first passenger is already going to La Guardia airport, it was perfect. I filmed in 30 and 40 frames with the anamorphic Angénieux. The car had a very big trunk where I made a grip with a Gimbal (Ronin) fixed to the tubes to stabilize in the middle of traffic. Inês Portugal was the camera assistant and adjusted the focus by remote control while I was with the zoom motor.
After filming in the capital Gabarone in Botswana and at the diamond mine, we went on a safari, where we filmed the animals that are in the movie. We knew there would be lions. We were rewarded with those situations we encountered. We closed a jeep just for us, we were like tourists getting the footage.
In diamond mines, the quest was to find the right camera position to convey the dimension and scale of the hole. I didn't have a complete set of lenses. There were two Anamorphic lenses: a 32mm and a Zoom Angenieux 56-152mm. We went to the highest point to find the best platform.
We shot with rails in factories of every country. Specifically in China, Gilberto de Araújo came along to set up the machinery because we had difficulty finding a local technician who spoke English. Taking Brazilian was the simplest solution. With his help with the aerial footage inside, I attached the camera to hooks. When Jason filmed alone on the first trip, he used a drone inside the factory so he could film from above.
In Salt Lake City, we used a circular track around the machine, which was in the center of a large hangar. In this location, we worked with a machinist there and the movement needed to be 360 degrees to be cinematic. In India, in the workshop where they polish diamonds, we got a 180-degree circular track that was taken from Mumbai to Surat. Where we couldn't get rails, we used wheels on tripods and Jason himself took on the role of the machinist.
At times, however, we decided not to stabilize the camera. At the Mine in Botswana, we let the shaking happen in one of the shots, because it's part of the stone selection process. In China, we also didn't stabilize one of the images and dealt with it. There was this argument at the time.
The idea of sci-fi guided us in post-production. One of the references was the warm tones of the movie "Her", by Spike Jonze, which inspired us mainly in the images of Dusan. Color correction and light marking were done remotely over two and a half weeks. Jason was in Los Angeles in a screening room at the finisher, I was in São Paulo and the colorist, Luke Cahill, was in his own house with a station set up. My computer monitor was calibrated, gauged, and tested by a technician who works with Quanta and Dot Cine. As the film was made over 10 years with several different cameras, I tried to keep the same feeling between the images, but I didn't try to match it. When we finished all the marking, I reviewed the film in a projection room in São Paulo. After analyzing the film on a big screen, I went back to work for another three days to make small adjustments and that was how I finished my work.
INTERVIEW WITH DIRECTOR JASON KOHN
AT THE BERLIN FESTIVAL
MINI BIO
Heloisa Passos is one of the most renowned and awarded directors of photography in Brazilian cinema. Among the more than 50 films she has photographed are internationally awarded feature films such as "Manda Bala" (awarded at the 2007 Sundance Film Festival), "Lixo Extraordinário" (nominated for an Oscar in 2011, as co-director of photography) and "Viajo Porque Preciso, Volto Porque Te Amo" (selected for the Venice Film Festival in 2009 and awarded at the festivals in Havana, Lima and Rio). In 2017, he directed the documentary "Construindo Pontes", selected for the Brasília Festival of Brazilian Cinema and for the IDFA (Holland), among other shows. On TV, he directed cinematography for series such as "Me Chama de Bruna" (Fox). He also did additional camera work on the documentaries "Democracia em Vertigem" (2020 Oscar nominee) and "Citizenfour" (2015 Oscar winner). In fiction cinema, he photographed features such as "Fortaleza Hotel" (2021), "Deslembro" (2018) and "O Que se Move" (2012). She won cinematography awards at the Sundance, Rio and Gramado festivals, among more than 20 awards, including the Cinema Eye Honor. She is a member of the Associação Brasileira de Cinematografia (ABC), the Collective of Women and Transgender People of the Department of Photography of Brazil (DAFB) and Cinematographersxx (CXX), in addition to being a member of the Academy of Motion Picture Arts and Sciences in Hollywood.