introduction
One day, at the beginning of 2020, I received an invitation from the executive producer Camilo Cavalcanti and an email from the wonderful scene directors Lívia Cheibub and Martina Sönksen.
They are already anticipating a little about the TV project that they are producing e-mails for Canal Brasil.
The proposal was for the show host (Ana Cañas) to receive cis and trans women to share their stories of sex and self-knowledge, deconstructing the taboo of female sexuality.
The approach to the themes investigates the perspective of women who are protagonists of their own narratives. The exchanges are intended to naturalize the subject, encouraging us to look at our questions and stimulate confidence to reveal ourselves.
The idea was to create a safe space for listening and exchanging. The aesthetics for the fictional scenes would be dictated by the emotion and feeling that the stories told in the interviews brought.
The intention was to at the same time subvert the language of "classic" talk shows. Throughout the series, fictional scenes would illustrate the experiences shared by the guests. Sensory and pornographic images, seeking a revaluation of the body, each one with its subjectivity and experience.
We made a first meeting to get to know each other and talk about the project. The match was at first sight.
The passion for the series was mutual.
The project was paralyzed for a year and a few months because of the pandemic, but the brainstorms were constant. We didn't have a lot of pre-production time due to schedule and structure issues, despite the team being very united and aligned.
From there we started to dive deep and have daily exchanges, we had numerous meetings with the heads of each department and we had the great challenge of being able to deliver and carry out each of the episodes in a very short time, with many limitations and with a very small overall budget to all departments (I, for example, took several objects from my house to help with the art direction (hahaha), which was done by my very talented friend Tamara Soriano).
The bonding was mutual, one helping the other, always willingly and with a lot of respect.
The program's format has a more deconstructed proposal, both in relation to the narrative and in relation to the language.
"Aesthetics will be dictated by emotion, by the feeling that the stories told bring", this was always the guiding thread for the fictional scenes, which were intended to have a naturalistic tone (both in the light and in the movements), cinematographic and at the same time bordering on the documentary.
The delivery was 13 episodes of 15 minutes each, each with a specific theme about sexuality within the female universe:
1. First relationship
2. Masturbation
3. Menage
4. motel
5. gush
6. Sex after HIV
7. orgasm
8. Oral sex
9. First sex
10. Menstrual sex
11. Sex Toy
12. First sensations of pleasure
13. BDSM
We filmed everything in 12 days, divided as follows:
• 1 daily pre-light
• 7 daily interviews + heads + introductions
• 4 daily fictional scenes
The schedule was VERY tight (both pre, filming and post too) and the logistics were hectic.
We had little time and little money to do everything the way we wanted, but, within what we had, we were very happy and satisfied with the result and especially with the process, which was a lot of learning.
In this article we are going to talk specifically about fictional scenes, although the show has a TV format, with interviews, headers and introductions.
LOCATION
We had 2 days of pre rental visits, with 4 house options.
We had chosen one of them among the others, the one that worked the most for us. However, due to the resident's withdrawal, we had to adapt to another location.
We needed a house with many environments as we had 13 different episodes to fulfill.
The house was one-story, which helped us a lot in terms of workflow, the ceiling height was approximately 3 meters, but, in general, the environments were small, which limited me a little in terms of framing, but it worked!
We used the following environments for each episode of the fictional scenes:
First relationship
Bedroom 2 and slab
Masturbation
Room without showing lease (closed plans)
First sensations of pleasure
Bedroom and outside without
much background (closed shots)
VISUAL APPROACH
The directors (Lívia and Martina) already had a lot in their heads what they wanted in terms of aesthetics.
There were inspirations brought by them, connecting the narrative with the whole visual part (photography, art, costumes), the format, language, etc.
For the part of interviews and heads, for example, they brought a specific reference to one of the works of the American artist Carrie Mae Weems, "Kitchen Table Series".
Among other inspirations were Alex Prager, series such as "Sex Education" and films such as "Portrait of a Young Woman on Fire" and "Carol".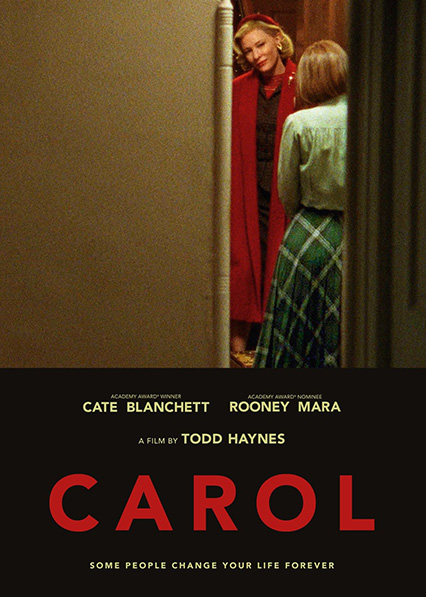 There were many exchanges, research, conversations.
For the fictional scenes, the inspiration came much more from our own experiences and experiences than from other films, whether porn or not. And, considering that the directors have the documentary as their main reference, many of the scenes seek to create these scenarios that flirt with reality, with everyday life.
The theme of the first times, for example, brings together many of our own memories. As our team is made up mostly of women, looking within ourselves to create these scenes was a natural and even collective process.
So, in addition to the program being able to bring together very talented professionals, which is visible in the final result, there was a symbiosis, something powerful that happened when women got together to listen and represent the story of other women.
Photography values the sensorial, the intimacy of the camera with the skin, the textures of bodies and their contours. It's to make you feel on the skin, without rush and up close. The perfect balance between a realistic, almost documentary approach and a poetic, cinematic feel to create even more emotion.
EQUIPMENT
I had to think of a strategy in relation to the team and the equipment that fit the project's budget and, at the same time, manage to arrive at an aesthetic that we believed in.
The intention was:
To think of a photograph that was cozy, that had a soft and naturalistic light, soft textures and at the same time sharps, emphasizing the
furs
by the
pores
and its nuances.
To pursue a more "optimistic" color concept while creating a look that is timeless.
Achieving a visual paradox between soft and crisp, which also works great with a variety of skin tones and textures.
We had two camera lists:
one for the interviews and intro headers of the program, and one for the fiction scenes.
In the fiction diaries, we got a beautiful partnership with André Manfrim, which I chose with my eyes closed, because even limited to this kit, it met expectations, although adapted… hahaha!
I used an ARRI Alexa mini with the Zeiss standard 2.1 ball game (16mm, 24mm, 32mm, 50mm, 85mm).
I also used diffuser filters like Glimmerglass and Blackmagic Hollywood, varying from episode to episode according to the concept of each show. I like the combination of the two filters, which smooth the skins, edges and details in a unique way, while adding a soft glow to bring out the highs while keeping the information in the lows.
Lately I've been using the mixture of these 2 filters a lot.
I chose to shoot in UHD, Proress 4444XQ. As we had limited post time, logistically we needed to start converting the material on set. So the logger was responsible for this function on a daily basis.
Thank you for all the partners who helped us with the equipment:
• André
• Vini Piran
• 22 Locações
LIGHTING
The light list I had was very small and adapted within our structure. Because of this and the short time we had to film everything with a very small crew, in most episodes I used a single source, in addition to some with 2 sources and others only with natural light.
It all depended on logistics and budget.
The lighting proposal has always been driven in part by the desire to keep things natural, but also by the poetic and optimistic concept of the project.
One of the guiding lines was to highlight a sensorial quality and permeate between the documentary and the cinematographic.
We establish a naturalistic aesthetic, bringing poetry and truth to the scenes.
Color temperatures vary within episodes, becoming more of a vehicle to convey sensations to the audience.
RECEPTION
As we always wanted to create this circle of affection and have a home that was a safe place for conversation to take place, this space was already welcoming.
The directors talked and prepared the actors in the kitchen pantry while our costume designer Celina Spolaor separated the looks. A place full of memories grandma's house.
The relationship with the actors begins long before filming. Lívia and Martina get very involved with each of the actors and actresses.
For them, it was essential that the actors feel pleasure in the scenes. When we played the scenes for the first time on the finished set, it was really cool to see them entering this space.
The casting consisted of actors and artists working in amateur porn, people who dissidents from "traditional" porn, others came from the theater. All are professionals and very dear people. Nudity and exchanging with other bodies are something much more natural for them.
Our process of making this program was collective sewing. All the professionals involved brought something of themselves to the design and execution of the program. Much was co-created and emerged because of this meeting. It was a collective pregnancy.
FICTIONAL SCENES BY EPISODE
It is vital to regain the right to one's sexuality, so that as soon as possible we can start creating new memories and giving new meanings to love.
The process of writing and designing the episodes was inspired by each of the guests. Thus, each fictional scene in each episode clearly had a purpose, an atmosphere, and a narrative arc that drove the photography and art direction decisions.
Episode 1:
First Relationship
The first episode had a very clear goal to create a feeling of coziness, home security and unpretentious morning sex.
We wanted to naturalize love and affection in the domestic daily life of this couple, who wake up together and kiss and enjoy each other with affection and horny. That's why we brought a very naturalistic light, with volume and mandrakes marked by the location's own window.
I only used a light source that came from the window, a Nanlite forza 500 with 30×10 to diffuse a little, but the intention was to generate volumes both in the skins and in the background.
In the movement, we chose to use the steadicam (operated by Zuga, a partner who has a super sensitive look), which walked through the actors' bodies, creating a very intimate atmosphere.
In the final scene, which is Catra and Verônica (actors) having a coffee on the slab, we programmed ourselves to use natural light to our advantage.
We wanted a morning sun with a more marked counbacklight and we used a very subtle styrofoam reflector for the hides (we were filming around 7:40 am, at the moment when the sun hit specifically where we wanted), in addition to the presence of flares, bringing a dreamlike, light sensation.
Episode 2:
Motel
From the beginning, the directors wanted to create our own motel, within our limitations.
Together with our art direction duo, Tamara Soriano and Fernanda Selva, we created Motel Shanghai. It has a reference to the aesthetics of Wong Kar Wai and all his enigmatic sensuality, but we wanted to subvert a little.
The colors are more pronounced, both in the art and in the light.
Green, for example, vibrates for something sexier, fun and has a more pop and Brazilian tone.
Red is warmer, bringing a more sexual mood.
We play with diegetic lights in the scene and chromatic contrasts through light and art.
I used a Raffle 650w with a beehive on the giraffe, the actresses and the bed very high, diegetic lights on the lamps and a very subtle counter to reinforce the background.
I chose to use a tripod and camera in hand.
The freedom in the narrative and the directors' diegesis make the atmosphere of the scenes transpire feelings and sensations.
Episode 3:
Menstruation Sex
Our guest on the episode about Menstrual Sex is AJ, a non-binary person who has sex with menstruation.
Menstrual blood is a very taboo thing, given that it is portrayed as a blue liquid in tampon advertisements while we see heads being cut off and spurting blood in any movie that runs on television in the afternoon.
Therefore, building an episode that brought lightness, beauty and naturalness to a sex scene between two people that involved menstruation was essential.
Also, the choice of the house laundry was to break with the idea of a bloody sex having to happen in a bed with a towel.
We wanted and had to explore the location, a real house and all of its rooms. The laundry room was outside the house, it was very cramped and had a window that helped us create the atmosphere of the scene.
The voile fabrics on the clothesline brought lightness and poetry, I was able to use them to create foregrounds and start with a more voyeur look, creating a sexy atmosphere without being fetishized and playing with the delicacy of the actresses without these bodies having to perform according to the expectation of genre.
I only used a light source that came from outside the laundry room door,
an HMI 1800w, filtered with CTO and 30 x10.
We started shooting with a steadicam, and when the scene became more intimate (middle to the end), I got into the action along with the actresses and chose to go with the camera in hand, mainly because it was a very limited space.
Episode 4:
Ménage
In the Ménage episode, we honor Mepe's personality, who is an inspiration of freedom, joy and hedonism. The living room in the house of "Sobrepostas" had classic dark wood furniture, and the table, the painting and the sconces (which we used to our advantage) formed the setting for our Dionysian banquet. But in this case, the banquet was these bodies, living the experience of the ménage, in which a man was the object of desire of two women and not the other way around, as usual.
And since there is no script for a threesome, we leave the actors free to move around the table, or on top of it.
I used a unique light source, in addition to the diegetic ones, combining a chromatic contrast between warm and cold.
Episode 5:
BDSM
We wanted to detach BDSM from a 'traditional' aesthetic focused on latex clothing and leather objects and chains, to something homey and every day. Something you do at home, before breakfast or while cooking beans.
As this episode had a more documentary tone and at the same time more "comic", I chose to use the 16mm very close and glued to the actors. We had already created a great intimacy there, this was the last episode we filmed.
Although I was very close to them, I was careful enough to interfere as little as possible in their actions.
Here I also used only a single light source, a Nanlite Forza 500, with 30×10 to diffuse, creating a very naturalistic atmosphere.
Episode 6:
First Sex
A lot of people think that PCD (people with disabilities) don't have sex. And it makes sense, because these people are rarely represented in audiovisual and advertising, let alone porn. That's why the idea for the First Sex scene was to show that, yes, PCD women have an active sex life like anyone else.
Guest Eva says that "Water is a liberating environment" for her, who felt supported by the support that water provides. Therefore, the bathtub in the scene became an important element, almost a protagonist.
Here I used 2 light sources coming from the windows and art mirrors in favor of the light, reflecting and marking a subtle mandrake in the background.
We started filming on the tripod and during the action we chose to go with the camera in hand.
Episode 7:
Oral Sex
The character of the episode is a trans woman who is loved, admired and desired. Our representation is of a woman who is happy and totally comfortable with her body.
She is in a relationship and the scene is with her boyfriend in the morning in her living room. This episode has an undertone of romanticism almost never seen in association with trans women's narratives.
There was also a desire to create a Caribbean setting and atmosphere, with interesting textures and tones through art direction.
Here I used an HMI 1800w coming from Janela. The blue fabric/curtain helped to create an interesting and different tone.
We opted for the tripod.
Episode 8:
Sex After HIV
There was a concern not to stigmatize fat bodies or stigmatize the bodies of people who have HIV. That's why we thought of a sex scene with great pleasure between the actors.
In this scene, it was important that he had oral sex, penetration and cum.
The bluish tone of the episode came to create the feeling and refer sex to "moon light" in a different way.
Warm diegetics helped to create a slight chromatic contrast.
I used the Nanlite forza 500 with 30×10 and CTO coming from the window, highlighting the backlight more, preserving the contour of the bodies, in addition to a Kino Flo with 4 0.60 lamps to have a smooth information on the edge of the bed.
We started filming on the tripod and during the action we chose to go with the camera in hand.
Episode 9:
First Sensations of Pleasure
The biggest inspiration for the episode was the time travel to rescue the memories of what had no name. Heart racing, skin sensations, excitement, pulse, vibration, a body in erotic awakening.
Discovering the clitoris is a shared memory.
To portray these feelings, we bet on the everyday scenes of adolescence with an atmosphere of memory, almost a dream.
We shot all the scenes in close-up and fully natural light, as we had very little time to do them, and we thought of this strategy to be able to fulfill it.
We filmed on a tripod and camera in hand.
Episode 10:
Masturbation
When the subject is the naturalization of female masturbation, there was also care in creating images that popularized this imaginary, so punished for girls.
Therefore, the self-touch deserves to be represented in an erotic and habitual way, that is, in a way that breaks with notions of an ordered, controlled, oppressive world. In this episode, among some stock footage to portray phenomena of nature used as visual metaphors of bodily sensations, we find different vulvas in super close and different women masturbating, each in their own way, an antidote to all the punitive speeches related to female masturbation.
The musical choices also bring this rhythm of sexual drive, by Ana Cañas, among other singers, until the moment of orgasm, which is accompanied by a beautiful scream sung in Gal's crystalline voice.
We shot all the scenes in close-up and fully natural light, as we had very little time to do them and we thought of this strategy to be able to fulfill it.
We filmed on a tripod and camera in hand.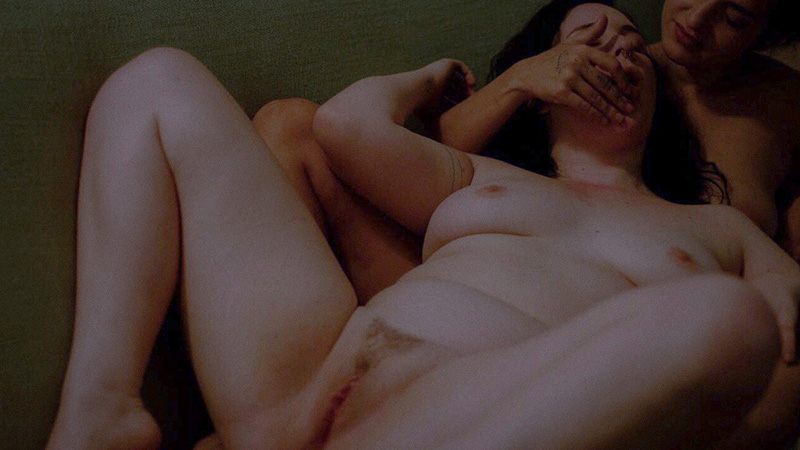 Episode 11:
Squirt
In the episode about the squirt, we were based on the experience of our interviewee Kiran (who had her most delicious squirt with oral sex performed by a woman), so we wanted to demystify that women only achieve the squirt with penetration and, often, with penetration very intense, almost raw.
Thinking that the spurt has a feminine potency, of a woman-nature and thinking that the body is water, the whole concept of this scene was thought of as a river that flows inside that, at some point, flows. And that's why the scenes have a lot of fluids, in kisses, in saliva, in the body's natural lubrications.
This was the first episode we captured from the fictional scenes.
As I had never had the experience of filming sex, I chose to stay further away from the actresses and have a more contemplative look through a more observational, but intimate camera, which did not interfere in anything with the characters' actions.
So, I would also be able to understand a little of the dynamics of rec operation.
Episode 12:
Orgasm
In "Orgasm", it was important to create a sophisticated scene in which the actress who receives the spanking is super sure of herself and very lucid about what makes her feel pleasure.
The piano was an object that ended up becoming essential for the scene, being played by the actress while she was reaching orgasm.
Here it was very important to capture the skin, which was reddened and marked by sexual objects, in addition to the slaps that Ana received from her scene partner.
The directors wanted to emphasize these textures.
I used a Raffle 650w with a beehive on the giraffe, very zenith to the cast + a subtle diegetic point of the lampshade, which I reinforced with a light 150w finger. We started filming on the tripod and during the action we chose to go with the camera in hand.
Episode 13:
Sex Toy
For the Sex Toys episode, we filmed in table top the different scenarios that chronologically represented the life stages of female sexuality to the present day.
From children's books to the most modern vibrators that, in the last scene, are shuddering under the sheet, composing a vibrating symphony.
To illustrate some of the uses of vibrators, we bet on a potpourri of scenes from all the other episodes in which the actors and actresses used the toys, in a vast succession of scenes of different bodies, scenarios and atmospheres, reinforcing that these objects can and do part of the sex lives of many different people.
I used a Raffle 650w with a hive 45o from the table / objects, with flags and broadcasts.
Static and zenith camera.
COLOR PROCESS
Before talking about color, I want to highlight the partner of many projects Alex Lopes, a super professional person, with a sensitive look and who adds a lot in several projects we do together.
The path we were looking for was to try to find a more playful art, but bringing a lot to real life, as the fictional scenes captured are still real.
We mixed languages in color, thinking about the subtleties of fictional versus documentary.
We cherish the truths of bodies, skins, textures.
We took great care in respecting and valuing skin tones, remembering that the project moved through various chromatic scales of skins.
In the light and contrast part, the path has always been to try to bring a more cinematic contrast, although the final product was for TV and for Globoplay, which is a streaming normally seen by the computer or cell phone.
So we had to find this metric between how much we reveal the light and how much the contrast brings this clarity of the real, cinematographic and dreamlike to the two vehicles that would exhibit the project. We fine-tuned this very minutely with the direction.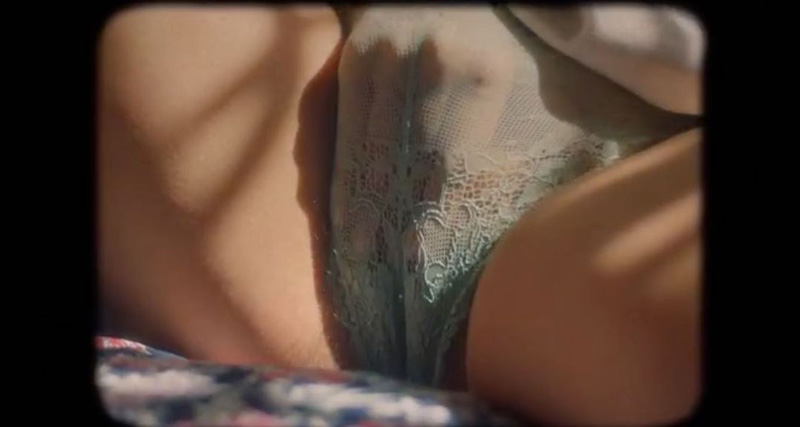 Special
Thanks
I am very grateful to have had this opportunity and to be able to enjoy so many satisfying experiences and enlightening teachings that served as mirrors of ourselves.
I thank each and every one of the staff from all departments, who were so special and essential.
We managed to conclude with love, affection, and a touch of talent from each professional who made a difference to the final result.
Especially my mini but giant photography team and too much partner <3:
Barbara
Vini
Carlinhos
Lais
Fernanda
Joice
Daniel
Zuga –  (2 daily fiction)
Alex
Making of photos – Natália Arjones
TECHNICAL TEAM SHEET:
Creation and Direction: Lívia Cheibub and Martina Sönksen
Production: Camilo Cavalcanti, Lívia Cheibub and Martina Sönksen
Clario Films and Wild Galaxies
Presentation: Ana Canas
Guests: Luedji Luna, Josyara, Bianca Mepe, Bru Toledo, Preta Kiran, Marina Vergueiro, Thais Mayume, Fernanda Bourbon, Eva Coutinho, AJ Ardas, Jen Pereira, Amanda Deja Puja and Anna Gabrielle.
Fiction Cast: Anna Blue, Verônica Lins, Nego Catra, That Mario, Cosmic Storm, Lorie, Miss Nox.
Screenplay: Safira Moreira, Martina Sönksen and Lívia Cheibub.
Director of Photography: Milena Seta.
Executive Producer Camilo Cavalcanti
Production Coordination: Sofia Vontobel
Casting Coordinator: Deah Pinheiro
Assist Directed by: Tati Rabelo
Assist Researcher: Thainã Andrade
Cast Production That Mario and @lelineira
Art Direction: Tamara Soriano
Art Production: Fernanda Selva
Assist of Art: Pedro Drunska and Pedro P. Millan
Direct Sound: Juliana Santana
1st Assistant Camera Interviews: Marília Morais
1st Assistant Camera Fiction: Daniel de Santi
2nd Assistant of Camera and Video Assist: LAISTX
Camera 2nd Unit: Fernanda Pinheiro
Steadicam 2 nights: Zuga
Partner: Vini Piran
Head of Electrical: Bárbara Lopes, DAFB
1st Assistant Electrical: Vinicius Torres dos Santos
2nd Assistant Electrical: Gabriel Vigali
Machine Chief: Carlos Santos Grip
Costume designer: Celina Spolaor
Assist Costume designer: Juliana Ferrão
Producer Ana Canas: Juliana Periscinotto
Beauty Ana Canas: Leo Ferreira
Beauty Guests: Ester Ganev
Editing and Finishing: Natália Farias
Logger and Assist. Editing: Joyce Temple
Assist Editing: Angelo Medeiros
Designer & Still: Natalia Arjones
Mixing: Eber Pinheiro
Opening track: Alex Vaz
Colorist: Alex C. Lopes
Production Location: Bel Aquino
Assist Production Line: Bia Vieira
Assist Producer: Ciça Oliveira and Beatriz Veloso
TEAM CANAL BRASIL
Project and Content Coordination: Marina Pompeu
Financial Management: Luiz Bertolo
Marketing Management: Camila Roque
Business, Production and Digital Management: Gesiele Vendramini
Programming and Acquisition Director: Alexandre Cunha
General Director: André Saddy
Equipments:
22 Locações
André Manfrim
MR5 Locações
André Manfrim
Casa do Produtor
Cia do TP
Locadora F8
Locadora Full Frame
Catering: Umami Gastronomia
Transport: LICS Executive Transfers, Águia Truck Transportes, Cinevan
Security: Claudinei Custodio, Marcel Damas Prodossimo, Renato de Souza Francisco
Firefighter: Amanda de Oliveira Santos
Cleaning: Inovar Serviços de Limpeza, Espedita Raymundo dos Santos
TP Operator: Edinho One, Felipe Augusto, Marco Aurélio Rodrigues e Salvador Azeredo
Thanks:
Céu Handmade
Cisô Atelier
Climaxxx
Copacabana Lab
Insecta Shoes
Janiero Body of Colours
Liquidificador de Cor
Loungerie
Melissa
MyBasic
Nuasis
Terezas
Vini Piran
Zé Delivery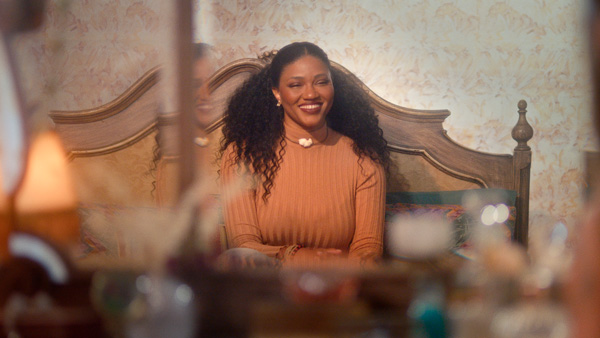 MINI BIO
Milena Seta is a cinematographic and still photographer. Between 2014 and 2016, he had experiences in the camera department in several projects as an assistant. In recent years, she has worked as a director of photography. In advertising, he worked for national and international brands, such as Nike, Boticário, Samsung, Audi, Natura, Motorola, Hershey's, Elle and Converse. He photographed music videos of singers and singers such as Liniker, Linn da Quebrada, Jaloo and Ricochet, among others. For Vogue and Noize magazines, she produced documentary content with Gal Costa, Xênia França, Iza, Marina Sena, Barbara Paes and Céu, among other artists. His most recent works are feature films, shorts, series and documentaries, such as "Odu" (short by Viviane D'Avilla), "Perda" (feature by Viviane D'Avilla), "Elas Está Just Beginning" (ESPNW), "Mi Bici y Yo" (Disney Channel), "Explorers" (Disney Jr), "Speaks of Pride" (Globoplay), "Fête de la Musique: L'homme Statue" (Molotov Cocktail and Loïc Koutana) and "Just One Wild Heart" (Belchior biopic).